Students come to our language school for many different reasons: some need to learn Spanish for work, others in order to travel, and some simply want to do something a bit different with their holiday. Whilst we encourage students to focus on their studies in order to make the most of their stay at Delengua, we also wish for them to have a great time whilst they´re here. For this reason, we organise daily activities to help students learn more about Spanish culture and practise what they´ve learnt in the classroom, but most importantly to make sure that they have an unforgettable experience in this enchanting city. Here are some great reasons to join in:
Meet other students: At our Spanish School in Granada we pride ourselves on creating an international community that is inviting to people of all ages and from all walks of life. Not only will you learn Spanish whilst studying in Granada, but you´ll have the opportunity to meet students from all over the world.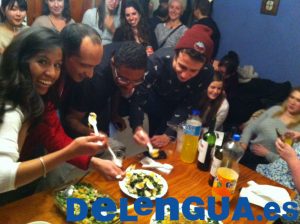 Learn more about Spain through our cultural activities: We aim to organise activities that give our students a real taste of the culture whilst they are learning Spanish in Granada. From tapas evenings, to Flamenco shows to Spanish cooking classes, we´re sure you´ll find an activity that you enjoy! We believe that learning a language is about more than just studying grammar and vocabulary, and for this reason we encourage our students to continue learning about Spain outside the classroom.
Discover the city: We´ve been situated in Granada since 1997, so we know all the best spots to visit in the city. As part of our daily activities we regularly organise walks and visits to the beautiful and little known parts of Granada that you won´t read about in the guide books. Our intensive courses take place in the morning so you will have afternoons free to explore the historic city and practise your Spanish with the locals.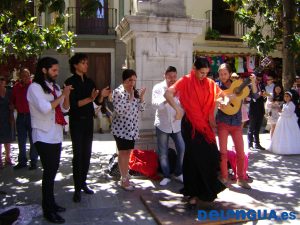 Get to know our enthusiastic teachers: We believe our excellent teachers are part of the reason that our Spanish courses in Spain are so popular. Our teachers organise and run all of our activities, and will be happy to answer any questions you have about Spanish language or culture. All the staff at the lanugage school help to create a welcoming atmosphere in which all students feel comfortable practising their Spanish, both in and out of the classroom.
We post information about activities on our website and on social media, so be sure to like our facebook page to find out more!