SPECIAL OFFER: SPANISH COURSE FOR ERASMUS STUDENTS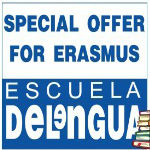 If you are an Erasmus student in Granada and would like to improve your Spanish during your stay, or simply give it a boost, then Escuela Delengua has the perfect offer for you at an extremely attractive price!
Course Description:
Classes: 4 classes per week (45 minutes per class) on 2 weekdays.
Duration: 4, 8, 12, 16 or 20 weeks.
Start date: Any Monday between 5/10/15 and 24/06/16.
Levels: Intermediate and Advanced.
Groups: from 2 to 10 students.
Price: €100 for 4 weeks. If you register with another Erasmus student, or you have previously studied at Escuela Delengua, there is a reduced price of just €75 for 4 weeks!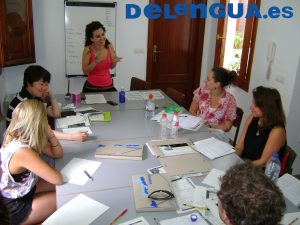 This course is perfect for anyone arriving for an Erasmus stay in Granada because it allows you to learn Spanish alongside your Erasmus studies. Whether you want to study for 4 weeks to help with the transition into Spanish life or study for 20 weeks to make the most of your time here, this course is designed for you. The course is flexible, with different levels and different times, so you can choose what suits you best! You can start on any Monday between 5/10/15 and 24/06/16. The language school Escuela Delengua is located in the very centre of Granada in the beautiful Albayzin quarter, 1 minute walk from Plaza Nueva and 5 minutes from Calle Elvira and the famous Alhambra. If you would like to sign up for a course, have questions, or would simply like to learn more about the school, you can do this through our website, Facebook page, or give us a call:
http://www.delengua.es/
https://www.facebook.com/EscuelaDelengua
Tel:+34 958 204535
We hope you have a fantastic Erasmus experience here in Granada!