Learning a new language can be difficult and tiring, and sometimes it´s tempting to swtich off after you´ve finished your classes and your homework. However, in order to make the most of your Spanish courses in Spain, it´s important to keep your target language in mind even outside the classroom. This might be easier than you think. By taking simple steps in your everyday life you can increase your exposure to the Spanish language without it feeling like a chore. Here are our top 5 tips
-Cook using Spanish recipes: Tired of tapas? Try your hand in the kitchen using a Spanish recipe. You don´t even have to cook a Spanish dish, but just make sure the cooking instructions are in Spanish. Through the process of making your shopping list, going to buy the items and then following the recipe step by step, you´ll increase your vocabulary of food and kitchen utensils, as well as picking up the imperative tense! We sometimes organise cooking classes as part of our weekly schedule of activities, so to be sure to look out for that whilst you´re studying at our Spanish language school!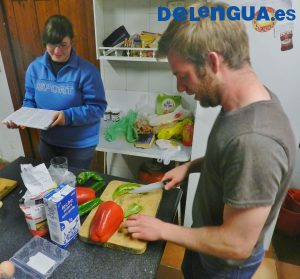 -Read everything : You don´t need to struggle through Don Quijote de la Mancha to improve your Spanish through reading. Simply take advantage of the fact that almost every product you encounter in daily life will have Spanish written on it. Read the back of the shampoo bottle while you´re in the shower, and the cereal box whilst you´re having breakfast. Try to figure out words that you don´t recognise through the context, keeping in mind that instructions on things like shampoo and shaving foam are more or less the same in any language ! Soon you´ll have absorbed this vocabulary without even trying.
-Take a class or practise a hobby : Are you into sport, dance or music ? If so, this could be a fantastic way to learn new vocabulary. Take a yoga or dance class, or if you play a musical instrument, organise some lessons whilst you´re in Spain. The great thing about these types of activities is that they are physical and visual, meaning you don´t need a high level of Spanish to participate as you can usually get by just by following the movements of the teacher. However, they are a great way to learn vocabulary such as parts of the body.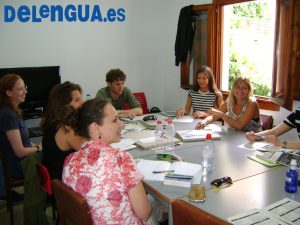 -Change the language on your digital devices : Do you know how to say ´low battery´ and ´switch off´ in Spanish ? If not, then it´s time you turned your phone, computer and tablet into Spanish. If you already know how your devices function, then this shouldn´t affect your ability to use them but instead will mean you´re constantly seeing words in Spanish.  Also, be sure to follow us on social media : everything we post on facebook is in Spanish and we post daily grammar tips on twitter.
-Take part in the activities : Take advantage of the school activities whilst studying Spanish in Granada. Our teachers will explain everything in Spanish, at a pace that will be easier to understand, and will be happy to answer any questions you may have.