When it comes to reading in Spanish, for students at Escuela Delengua in Granada it can sometimes seem like a bit of a daunting task.
As the 23rd April is International Book Day across much of the world, we decided to think about how the students at Escuela Delengua can get the most out of reading in Spanish, whether it be a novel, newspapers or even poetry.
Firstly it's important to choose a book at the right level. Too easy and you might find you get bored, too difficult and you'll quickly lose heart. A good way to do this is to ask your teacher at Escuela Delengua. They will have a good idea of your level and will be able to advise you on a good book to take out of the Escuela Delengua library.
Don't look up every word. While it might be tempting to pull out your dictionary every paragraph or so, it slows you down and takes all the enjoyment out of the story. While reading intensively may be helpful to understand grammar structures you're having problems with, doing it all the time may end up being counterproductive as many people soon lose interest in what they're reading. Try instead to think about the context of the unknown word and infer its meaning.
Read newspaper articles. Articles you find in newspapers are much shorter than books so tackling one doesn't seem quite so difficult a task. They also contain useful vocabulary, are written in a more simple style than novels and allow you to follow current events in Spain, Latin America and around the world, giving you an insight into the culture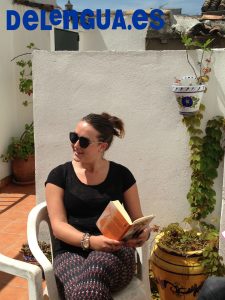 Read something you've already read in your native language. This allows you to infer much of the vocabulary without using a dictionary as you already know the storyline making it easier to progress and enjoy the book. For example lots of people start with something like Harry Potter in the language they are studying.
Get rid of distractions. Having the TV on in the background or your housemates chatting on the sofa next to you can make reading in a foreign language almost impossible, especially to start out with. Try to find a quiet place where you're unlikely to be interrupted while reading, allowing you to concentrate.
Do you have any other tips for Spanish language students on how to improve their reading skills in Spanish? Let us know in the comments section!
How will you celebrate International Book Day? Here at Escuela Delengua we will be celebrating all week with different activities, which you can see on our website here and include going to the XXXII Book Fair in Granada.
You can also find more information on our Facebook and Twitter pages
.