From Monday to Friday Escuela Delengua organises a range of activities for its students studying Spanish in Granada, which you can see on our website. Every Wednesday is a cinema day and last week a group of students went to see Pedro Almodóvar´s latest film 'Los Amantes Pasajeros' (I'm So Excited!). You can see the trailer here:
http://www.youtube.com/watch?v=vQbiAK_3HcE
In case you're unfamiliar with his work, Pedro Almodóvar is one of Spain's most famous directors. His films have won 2 Oscars, 9 Goyas and he has arguably seen more international success than any other Spanish director.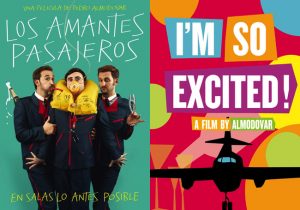 The story of 'Los Amantes Pasajeros' follows the crew and passengers on a flight bound for Mexico who are trying to cope with the fact that the landing gear has failed. During the film they try to come to terms with their impending doom and dark pasts with some unexpected consequences…
I decided to talk to a couple of the students from Escuela Delengua who went to see the film to see what they thought, both about 'Los Amantes Pasajeros' and other films they had seen by Almodóvar:
Interviewer: Did you enjoy the film?
Ed: Of course, very much.
Mark: Not really. I thought it was too exaggerated.
I: Was it easy to follow?
E: The language is hard to understand because they speak very fast but the images are very expressive so you can follow the story. I understood the second half more than the first half, I think I got used how fast they talk!
M: I've only been learning Spanish for a few weeks so I only really saw the pictures and understood a few words, but the plot was very simple so I could follow what was going on.
I: Have you seen any of Almodóvar's other films?
E: Yes, 'Bad Education'.
M: No.
I: And how did it compare to 'Los Amantes Pasajeros'?
E: Bad Education was much more serious and had more depth to it. The plot of  'Los Amantes Pasajeros' wasn't a new story and didn't have much substance.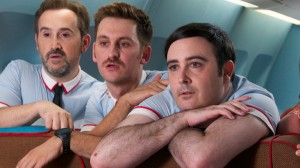 I: Do you think watching Almodóvar's films helps with you Spanish studies at Escuela Delengua?
E: Definitely.
M: I think that I would get more from the experience after a few more Spanish lessons!
I: As you know, at Escuela Delengua we have a library full of films, books and CDs that are free to borrow. Do you think you'll be checking out more of Almodóvar's films?
E: Yes!
M: Yeah, that way I can watch them with Spanish subtitles!
So not a rave review from the students at Escuela Delengua but it certainly seems that they will be taking advantage of the great resources they have access to with Escuela Delengua.
What do you think? Have you seen 'Los Amantes Pasajeros?' And if you did, did you enjoy it?
Would you recommend the films of Almodóvar as a good way to improve your Spanish?
For more information about Escuela Delengua see our website, like our page on Facebook or follow us on Twitter.