One of the festivals we talk about here is Holy Week. It is one of the most popular religious festivals in the south of Spain, it is celebrated in every town and city in Andalucia. The people of Granada dedicate a lot of time to ensure that everything is as beautiful as possible.
Holy Week is also one the most recognised festivals worldwide, in particular the festival of Andalucia and for that reason it attracts many tourists to the region from all over the world.
In this article we're going to give you all the information you need to enjoy the Holy Week celebrations.
To start here you have the official guide to Semana Santa whyou can find the times, routes and explications of each procession.

http://www.hermandadesdegranada.com/pdf/guia2013_Federacion.pdf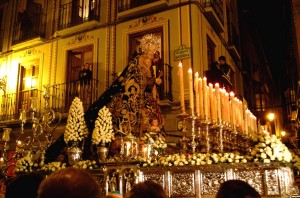 For photos, videos, news and more check out this website:
http://semanasantagranada.ideal.es/
Plan ahead.
Thousands of people line the streets during processions, all trying to get a look at the floats as they pass by. If you want to get a prime spot for some processions you could have to arrive as much as two or three hours before. But don't worry! Escuela Delengua is situated very close to the Cathedral which all the processions pass through meaning there will be plenty of chances to see the floats.
If it rains…
The people of Granada have grown up with these rules for what to do if it rains, but for a foreign student who is studying Spanish in Granada it can be difficult to know what you should do in case it rains during a procession.
If it rains, one of two things can happen. The float will either return very quickly to the church it started at or it will continue on to the cathedral as fast as possible. This means that things can become a bit chaotic and so we have these rules.
Keep calm!
Stay where you are and wait while the procession either returns to the church or continues on to the Cathedral.
Don't open your umbrella during the procession – it can add chaos to the situation. The people surrounding the float who are wearing hoods can't feel the rain and so start to get very nervous when they see umbrellas.
After about an hour you can go to the church or the Cathedral to see the float. It's important to remember that it is a solemn occasion and so you shouldn't make noise inside the churches.
Have you been to Holy Week in Granada? Do you have any advice for people going to the processions?