One of the best things about being a student at Escuela Delengua, studying Spanish courses in Granada is that you get to meet lots of different people from very different backgrounds doing lots of different things, but last summer one student in particular really took the biscuit when it came to unusual professional occupations. This student was Geir Zahl, one of the founding members of successful Norwegian rock band Kaizers Orchestra. Having released around 8 albums, 18 singles, 6 EPs and having played at many large European festivals such as Sziget, Hurricane, Southside, Lowlands, Frequency and Roskilde, they are undoubtedly a very successful band, with a following of almost 90 000 fans on Facebook; enough to make a fairly decent sized army. So it was unsurprisingly a bit of shock to anyone who asked Geir "what do you do then?" when he would reply with the very modest response of "oh, I just play in a band" and later discovered that it certainly wasn't just any band.
It was Geir's second time taking a Spanish course in Delengua at the end of last summer and it certainly didn't take long for him to be nicknamed and frequently referred to as "el rockstar". After asking Geir why he chose to do a Spanish course, he responded that he had always had a soft spot for the Spanish language and said that he was also surrounded by Spanish speakers from time to time and one day just decided to act upon an impulse and come to Spain. As a self-professed die-hard tennis fan, he most certainly chose the right place to take a Spanish course as Granada in the summer is one of the best places to be outdoors and is certainly not short of places to go to catch up on the sport.
It's not every day that you meet someone pretty famous in another part of the world completely out of their context of fame. In Geir's own words Granada is a beautiful place and he is hoping to come back to rejoin us at Delengua in the near future.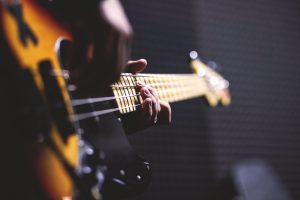 The unique thing about the Delengua 'comunidad' is that all the students taking Spanish courses here get to know each other rather well, as it is quite a small school, and the variety of people you meet here really helps to add that little extra flair to the Delengua experience. Geir is a good example of how diverse the school´s students can be, and here in Delengua, meeting someone interesting just becomes part of our everyday life.