Many people travel abroad to improve their language skills for many different reasons, some are practical and others are because they simply enjoy learning new skills, but their inspiration to learn is often their best kept secret. At Escuela Delengua we find that the range in different inspirations is as varied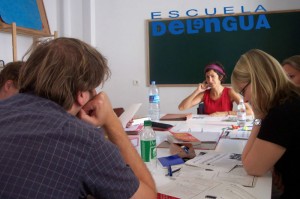 as the people that attend it and the differences between them can be most interesting. For example, one of the first students I talked to about his inspiration to come to Granada and study Spanish replied simply that he had always found Spanish culture fascinating and in his line of work he was surrounded by many Spanish speakers. For this reason he decided he wanted to understand what they were saying and be able to engage with them, so he decided he would head to Granada after a recommendation by a friend for Delengua.
Many other students I spoke to say they are studying in Granada for practical reasons, either because Spanish is an essential part of their university course or because they have decided to live in or travel around Spain. But although they might see the process of learning Spanish as practical, there is still the inspiration behind their choice to either come to Spain or choose Spanish at university. Another student I spoke told me of her very brave decision to try something completely new and sell almost everything she owned in her home cou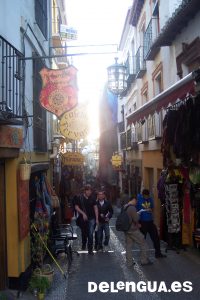 ntry and move to beautiful Granada to encounter something new and exciting in this stage in her life. Another student told me of how he was fascinated with Granada and its beauty and how he saw learning Spanish with a close group of likeminded people as a way of enhancing his experience here and how it allows him to see more than just the surface of the city.
The differences between different people's stories really helps to form unique atmosphere to learning Spanish in the school but, although they may be different, the recurring theme seems to lie in the attraction of Spanish culture and Spanish language is obviously an essential part to engaging with life in Granada.
For the students at Escuela Delengua, the inspiration behind their choice to learn Spanish varies incredibly from person to person, highlighting the range of different people that attend this school, but these differences help formulate the unique, exciting and vibrant atmosphere that learning Spanish in Delengua is able to provide.