When you take an intensive Spanish course, it is so important to really make the most of your experience. All of our students find that they improve rapidly here at Escuela Delengua in Granada. Nevertheless, here you can take a look at some helpful tips to fully take advantage of this brilliant opportunity!
Get to know your classmates!
The majority of students come to the Spanish school alone, and on your first day there is an introduction before you are placed in a small level-based class (of a maximum of 8 students). This creates a friendly and comfortable atmosphere for students to get to know each other. You find that you make friends with students from all corners of the world, so you can discover a variety of interesting backgrounds whilst you learn Spanish through grammar and conversation. Furthermore, when you socialize with your new friends outside of class, you can further practice your Spanish. No-one is a perfect speaker so don't be afraid to make mistakes!
Participate in activities!
Delengua organizes a program of activities each week during the afternoons so you can experience the Spanish culture and language in Granada outside of classes. These activities include visits to the historical and popular monuments in Granada such as the Alhambra and the Cathedral as well as social and leisure activities like tapas nights, Spanish cinema, and even Salsa dancing! Everyone takes part in these activities so it is a really fun way to improve your Spanish through the cultural aspects and historical sites of Granada. Furthermore, there is the opportunity to go on weekend excursions to cities such as Seville and Cordoba so you also get to know new and exciting cities.
Use our language resources!
As well as the class material, there is further opportunity to practice with our library of books, films and music which is such a useful way to immerse yourself into the Spanish language. Furthermore, you can interact on Delengua's social networks; the Facebook Page and Twitter consist of grammar tricks, tests and explanations to practise and understand concepts in your free time.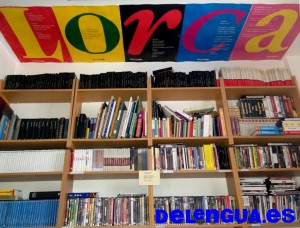 The Escuela Delengua LibraryFinally, challenge yourself! A Spanish course in Granada is a valuable opportunity, so it is really important that you ask questions, be confident and willing to practice your Spanish, participate in activities, make the most of the material that we have to offer, and then you really can't go wrong!