Do you have Spanish exams in a few months and you want to improve before this important moment? We have the solution for you, come to Spain to our Spanish school Delengua to prepare your exams! There is nothing better than to learn Spanish in Spain…
At Delengua you will have the possibility to improve with Spanish intensive courses adapted to your level (6 levels, from absolute beginner up to proficient user).  Moreover, you will h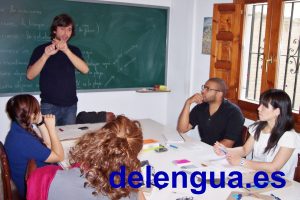 ave to speak Spanish all day long to communicate with other school students, with Spanish students, with teachers or at the supermarket. That is why you will improve very quickly! The best way to prepare for your exams is to take additional Spanish individual classeswith one of our teachers. If you wish, we can adapt the content of the course to your own exams. You just have to indicate the themes you need to work with (Spanish History, grammar…) when you register.
For example, if you want to study more particularly the political life of Spain for your exams, we can prepare for you a course about this subject and you can ask all the questions you need to the teacher. So the real advantage of individual classes is that you will improve at your own rhythm with a course adapted to your level and needs.
The teachers at Delengua School are here to help you to improve and to put you at ease before your exams. Furthermore, a more diversified vocabulary will score you more points in an exam and that is why the teachers will introduce you to more natural Spanish words or expressions that are not common within "textbook Spanish".
Now to decide how long you will stay at Granada, the number of your individual classes and the accommodation you wish, you can consult the page of prices and dates of Spanish courses of Delengua School. If you do not have a lot of time to prepare your exams, you can do as many as 8 individual classes per day! Enough, isn't it? In any case, good luck in your exams and see you soon!