Granada is known worldwide for the Alhambra, but its most ancient district is the Albaicín. According to sources, the first Arabic dynasty began here in 1013 with the arrival of the Zirids.
There are many ways to enter the Albaicín. You can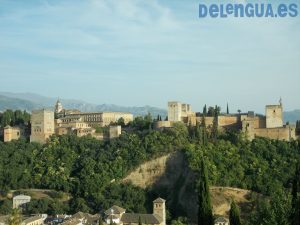 start going up taking the Paseo de los Tristes, a street next to the Darro river and at the foot of the Alhambra. You could also  discover the district starting in the street Calderería Vieja, the same street on which Escuela Delengua is located, making it an ideal place to take a Spanish course. As the school is situated at the foot of the Albaicín, you are also very near to the main street Gran Vía and to the Cathedral.
In this street, you can find many Arabic shops as well as typical tea houses, the teterías. In order to discover the quarter, you should stroll through the cool and flowery alleys until you reach the San Nicólas viewpoint. Many people meet here including  locals, tourists and students, all of whom want to enjoy Granada's best view of its most famous monument: the Alhambra, in front of the gorgeous backdrop of the Sierra Nevada.
Why not sit down and have something to drink in one of the lively squares?
If you want to go up more and enjoy another panorama, you will love the San Cristóbal viewpoint. It is a bit smaller but has a beautiful church to one side. From this viewpoint, you can see the city walls and right above them the palace Dar al-Horra, the residence of Sultan Muley Hacen's wife who was thrown out of the Alhambra by her husband who had fallen in love with a young Christian girl, Isabel de Solís.
You can also see the bullring and almost the whole city centre.
So, if there's one place to visit while in Granada, it has got to be the Albaicín!