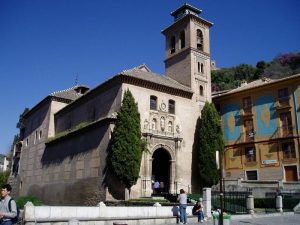 Español
Inglés
La Iglesia de Santa Ana de Granada es una de las iglesias mudéjares más interesantes de la ciudad y se sitúa al lado del Río Darro y en la Plaza Nueva, próxima a la Real Chancillería y al pie de La Alhambra.
Fue construida en el año 1537, siguiendo los proyectos de Diego de Siloé, el artista más famoso de la época en su zona. La construyeron en el solar, donde anteriormente se encontraba un oratorio islámico, la mezquita Al-jama Almanzora. La iglesia tiene una sola nave a la que se le adosan capillas laterales y una excelente Capilla Mayor. De aquella anterior mezquita se conserva hoy su alminar, una bella torre de ladrillo.
Tiene interiormente elementos artísticos de incalculable valor, con grupos escultóricos muy interesantes en cada una de las cinco capillas. También son notables las pinturas que se conservan en sus muros, obra de los siglos XVI y XVII y en la Sacristía se conserva un cáliz, obra de Francisco Téllez de 1568. Otro de los grandes valores arquitectónicos de esta interesante iglesia está en su portada principal, que da a la plaza, realizada en estilo renacentista.
Mariana Pineda, la popular heroína ejecutada se casó en la Iglesia de Santa Ana, y además se conservan allí los restos del historiador granadino Francisco Bermúdez de Pedraza (siglo XVI) y del escultor y pintor local José Risueño (1665 – 1732).
La Iglesia de Santa Ana es una de las muchas iglesias que hay en Granada, la ciudad tiene un gran numero de monumentos interesantes y bellos. Escuela Delengua es una escuela de español en la ciudad de Granada. Es posible hacer un curso de español durante las semanas que quieras. Desde una semana hasta un año y durante este tiempo puedes conocer la ciudad de Granada y todo lo que ofrece.
The church of Santa Ana in Granada is one of the interesting mudejar churches in the city and it is situated next to the Darro river and in the Plaza Nueva, next to the Real Chancillería and walking distance from the Alhambra.
It was built in 1537 following the plans of Diego de Siloé, the most renowned artists of the era in that area, they built it on the site where an Islamic oratory had previously been, the Al-jama Almanzora mosque. The church has just one nave with chapels coming off from it and an excellent main chapel. The minaret from the old mosque still stands today, a beautiful tower of brick.
Inside it has artistic elements of incalculable value, with groups of interesting sculptures in each of its five chapels. Also notable are the paintings that have been preserved on the walls, work from the 16th and 17th centuries and in the sacristy there is a chalice, work of Francisco Téllez form 1568. Another of the architectural valuables from this interesting church is its main door to the plaza, made in Renaissance style.
Mariana Pineda, the popular executed heroine was married in the church of Santa Ana and further more it has the remains of the historian from Granada, Francisco Bermúdez de Pedraza (16th century) and of the local sculptor and painter José Risueño (1665 – 1732).
The church of Santa Ana is one of many churches in Granada, the city has a large number of beautiful and interesting monuments. Escuela Delengua is a Spanish language school in the city of Granada, it is possible to do a Spanish course at the school for just one week or for up to a year, for as long as you want, and during this time you can get to know the city of Granada and all that it has to offer.