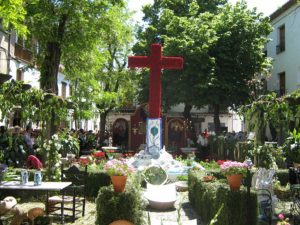 Español
Inglés
Como cada año, el 3 de Mayo Granada celebra el día de la Cruz. Esta fiesta se celebra en muchos lugares de España y en la mayoría de los países de Latino América, pero en ninguna ciudad se celebra con tanto fervor y entusiasmo como en Granada. Es una de las fiestas más bonitas de la provincia.

En la ciudad de origen de la Escuela Delengua el día en que se encontró la Cruz de Cristo siempre se llena de colores vivos. Autóctonos y forasteros se dan, cada año, cita en esta fiesta tradicional de la ciudad andaluza.

Muchos lugares de la ciudad se adornan con flores y cruces de flores pueblan la maravillosa ciudad. La flor típica de la fiesta es el clavel rojo, del cual van forradas las enormes cruces. Ya el día de antes ó, incluso, varios días antes del gran día, los vecinos preparan los patios para que luzcan unos más que otros. Las mujeres, jóvenes y mayores, se visten de Flamenca y en algunos bares como también en la calle se puede disfrutar de una fiesta del baile andaluz.

Se trata de un encuentro multicultural, ya que tanto Granadinos como forasteros celebran la fiesta de las Cruces juntos. La gente suele venir de todas partes del país y también del mundo. En la calle se habla español, inglés, francés, alemán y muchos idiomas más. Y también donde no hay tanta tradición triunfan las ganas de celebrar y el tinto de verano.

Si quieres vivir y celebrar con nosotros la fiesta de las Cruces, puedes compaginarla perfectamente con un curso de español impartido por la Escuela Delengua, donde además se realizarán actividades relacionadas con esta fiesta.

Every year on 3rd May, Granada celebrates the Day of the Cross. This holiday is celebrated in many places in Spain as well as in most Latin American countries,but in no other city is the day celebrated in such a way as it is in Granada. It is one of the most beautiful celebrations in the province.

Escuela Delengua's city of origin always finds itself full of vibrant colours on the Day of the Cross. Natives and foreigners get together every year for this traditional celebration in the Andalusian city.

Many places in the city are decorated with flowers and there are crosses of flowers which populate the marvelous city. The flower typical of this holiday is the red carnation, enormous crosses are covered in them. The day before or even several days before the big day, the people of Granada prepare their patios so that they look nice for the speacial occasion. Women,old and young dress up in Flamenco dresses and in bars as well as in the streets, they celebrate the Andalusian dance.

It is a multicultural meeting, you find so many people from Granada, as well as foreigners celebrating the holiday of the Crosses together. People come not only from all over the country but also from all over the world. In the streets they speak Spanish, English, French, German and many other languages. Where there is not as much tradition, they enjoy the celebration and the Spanish drink, « el tinto de verano ».

If you want to experience and celebrate the Day of the Cross with us, you can combine it perfectly with a Spanish course at Escuela Delengua, where
they too hold activities relating to this holiday.