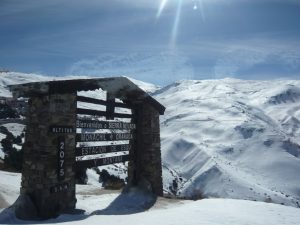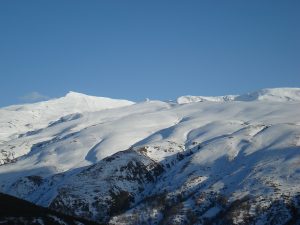 Español
Inglés
Entre Granada y la Costa del Sol, sólo a una hora de distancia de los dos lugares, se encuentra Sierra Nevada. Unas montañas como no se espera en el sur de la Península.

Con unos 100 kilómetros de largo, Sierra Nevada ofrece un paisaje salvaje, con muchísima nieve durante el invierno y prados amplios y verdes en verano. Aquí se encuentran pueblos pequeños, cuevas en las que ha vivido gente ya hace mucho tiempo, animales diferentes y gente independiente y consciente de vivir lejos de las grandes ciudades.

Una vez hayas estado en estas montañas impresionantes, no te quedará ninguna duda sobre por qué los árabes se escondían en Sierra Nevada durante la Reconquista.

Desde Granada basta con una hora para llegar a Sierra Nevada. Queda lo bastante cerca como para pasar una tarde, hasta ir de picnic, en las montañas. Hay autobuses que salen regularmente desde Granada y que regresan por la noche.  Monachil es por ejemplo un destino famoso y con éxito para los granadinos y también conocido de algunos turistas. El pueblo al pie de la Sierra Nevada ofrece montañas para escalar, un río con agua fresca de las montañas, y en verano multitud de arboles llenos de cerezas e higos.

Se puede ir quizás después de un día de estudios lingüísticos en un curso de español en la Escuela Delengua. En los numerosos caminos se puede esconder de la rapidez y del bullicio de la ciudad grande y disfrutar un apacible descanso con un picnic traído, con Jamón Serrano, Queso Manchego y pan fresco.

¡No te pierdas este milagro de la naturaleza, Sierra Nevada! Ven a Granada y disfrútalo con un curso de español en la Escuela Delengua, y actividades/excursiones para descansar y conocer más de la región!

Between Granada and the Costa del Sol, just one hour from these two places, you find Sierra Nevada. Some mountains you don't expect in the South of the Peninsula.

Some 100 kilometers of length the Sierra Nevada offers a savage landscape with lots of snow in winter and wide meadows in summer. You find small villages, caves in which lived people a long time ago, different animals and people who live far away from the next bigger town.

One time you've visited these impressive mountains, there won't last any question why the Moors hide in Sierra Nevada during the Reconquista.

From Granada it's just about one hour till Sierra Nevada. Near enough to pass one afternoon in the mountains. There are buses which leave regularly from Granada and  which go back in the evening, too. For example Monachil is a favorite place where people from Granada and as well some tourists know and appreciate. The small village at the beginning of the Sierra Nevada offers mountains to climb, a river with fresh water from the mountains, in summer you can find trees full of cherries and figs.

You can go there, maybe after one day of Spanish studies in a language course in the language school Escuela Delengua. In the different paths you can escape from the running and fast-paced life of the big city and enjoy a sunset with a picnic partly made of Jamón Serrano, Cheese from the Mancha and fresh bread.

Don't miss this miracle of  nature, the Sierra Nevada. Come and enjoy it with a language course in the language school Escuela Delengua and then relax during the activities!