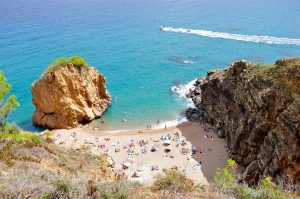 Español
English
La Costa Tropical se sitúa al sur de Granada, dentro de la provincia de Granada. Limita al Oeste con la provincia de Málaga (costa del sol), y al Este con la provincia de Almería. La Costa Tropical, muy irregular, ofrece muchos paisajes diferentes. En la primera parte del litoral, al pie de la sierra de La Contraviesa, la carretera que bordea el mar pasa por montañas que vuelven los caminos difíciles de pasar.

Aquí se pueden visitar algunos puertos de pescadores como La Rábita, con su pequeño castillo, o La Mamola, con su extensa playa.

Más allá, en Castell de Ferro, se puede encontrar una torre de vigía, indicio de la presencia de los piratas en otro tiempo. Aquí empieza la parte mas turística de la costa. Aquí están las playas de Poniente, del Puerto y de las Azucenas que forman el littoral de Motril y en a las que los granadinos suelen venir en verano.

Salobreña, la playa más próxima a Granada (a sólo 30 minutos en coche), se sitúa un poco mas lejos. Este pueblo está en una colina rematada por un castillo árabe. Sus casas blancas, que se parecen a las del barrio del Albaícin en Granada, son muy bonitas. El lugar es tan bonito por su ambiente como por sus playas. La vieja fortaleza nos ofrece un panorama sobre las tierras cultivadas de cañas de azúcar del Guadalfeo, que se extienden hasta Sierra Nevada.

Escuela Delengua organiza a menudo excursiones a las playas, especialmente a las de la Costa Tropical porque son las más cercanas a Granada. Nos vamos por la mañana y regresamos por la tarde, después de haber visitado los pueblos y, por supuesto, disfrutado del mar. En solo 30 minutos se puede ir ahí. Así se dice que en Granada se puede esquiar por la mañana y disfrutar de la playa por la tarde.

The Costa Tropical is situated in the south of Granada, within the province of Granada. It is limited in the west by the province of Malaga and in the east by the province of Almeria. The Costa Tropical is very irregular and offers very different landscapes . In the first part of the coast, at the foot of Sierra de la Contraviesa, the road which borders the coast is very uneve, due to the mountains that it crosses.
Here, you can visit some little fishing ports like La Rabita with its small castle or La Mamola with its large beach.Further, in Castell de Ferro, you can see a watchtower, proof of the existence of pirates in the area in old times. Here begins the most touristic part of the coast: the beaches of Poniente, the Puerto, and the Azucenas which form Motril's coast. That's the place where the inhabitants of Granada go to enjoy the mediterranean beaches.

Salobreña, the closest beach from Granada (just 30 minutes long in car), is a little further. It's situated in a hill surmounted by an old arabic castle. Its white houses, reminding the Albaicin area in Granada, are very lovely. This place is charming for its atmosphere as well as for its beaches. The old fortress offers a panorama of sugar cane fields extending to the Sierra Nevada.

Delengua Spanish school often organizes trips to the beach, especially those of Costa Tropical because they are the closest from the Granada. We usually go in the morning and we come back at the end of the day, after having visited the villages and of course enjoying the sea. You can go there in only 30 minutes, and that's why in Granada we say that in the morning you can go skiing in the Sierra Nevada, and in the afternoon taking some rest on the beach.