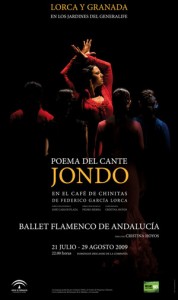 Español
English
¡Jueves 6 de agosto de 2009, una noche para recordar! La escuela de español Delengua nos ha llevado a ver Poema Del Cante Jondo en el Café de Chimitas de Federico García Lorca, del programa estival de Andalucía en los jardines del Generalife. El nuevo ballet flamenco bajo la dirección de Cristina Hoyos.
El entorno es magnífico, entre La Alhambra y sus jardines, frente a la puesta del sol sobre Granada. Este espectáculo de calidad cuya diversidad de ritmos y colores crean un encanto, ideal para un primer contacto con el flamenco, pero también para los aficionados y los conocedores. La música, el cante y el baile son intensos, verdaderos y apasionados. Como a Lorca le ha hechizado el flamenco, a mí me ha arrebatado en medio de la cultura andaluza. La escena del silencio y del grito es para mí la parte más emocionante del espectáculo, un momento mágico, fuera del tiempo. Estudiantes de Delengua, aquí para descubrir o mejorar el español y su conocimiento de la cultura española, ¿qué pensáis de esa alianza Lorca/Flamenco en la Alhambra?

Thursday 6th August 2009, some night! Delengua Spanish school of Granada took us to see Poema Del Cante Jondo en el Café de Chimitas of Frederico García Lorca, Andalusian's summer program at the Generalife's garden. This is a new flamenco ballet under the direction of Cristina Hoyos.
The surrounding is superb, between the Alhambra and its gardens, on front of the sunset over Granada. This is a quality show which diversity of rhythms and colors create an enchantment, ideal for a first contact with flamenco, but also for amateurs and lovers. The music, the singing and the dancing are intense, true and passionate. Like flamenco bewitched Lorca, it has sent me right into andalusian culture. The silence and shout scene was for me the most moving part of the show, a magic moment, out of time. Delengua's students, here to discover or improve your Spanish and Spanish culture, what did you think about the alliance Lorca/Flamenco at the Alhambra?