Erasmus Course Special Offer:
If you are  Erasmus  student  in   Granada and you want to improve your Spanish we offer you language course with attractive prices.
Description
•    Classes: 4 classes per week, on 2 days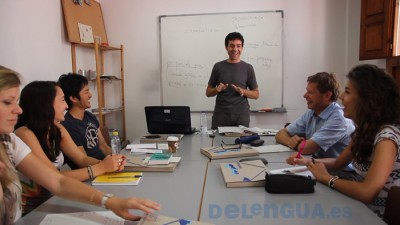 •    Duration: 4, 8, 12, 16 or 20 weeks
•    Start date: any Monday
•    Levels: intermediate and advanced
•    Groups: from 2 to 10 students
•    Price: €100 or €75 for 4 weeks
If you are an ex-student of the Escuela Delengua, or if you register with another Erasmus student each of you will pay only 75 euros for four weeks.
It is the best way to progress in your knowledge of the Spanish language during your stay.
Choose when to have your Spanish for Erasmus students course: twice a week, at different times, with different levels, and starting any Monday you wish.
Language school is located in the center of Granada, in the beautiful Albayzin quarter, just 1 minute from Plaza Nueva and 5 minutes from the famous Alhambra and Calle Elvira.